Relocation is more than moving.
In this client's story, we share the steps we followed to make the process painless.
In this Relocation project, we helped our client transition from her 2 bedroom apartment, in Kitchener (Ontario), into a new apartment in British Columbia.
Challenges
She lived most of her life in this apartment. In the past years, she has faced challenges like:
Reduced mobility due to hip problems.
Loss of close friends.
Family members moving out of the province.
Inability to drive her own car anymore.  
Life on her own became very difficult and a relocation to British Columbia, closer to family members, made sense to her. 
She didn't have anyone here to help her and she was looking for assistance. She needed peace of mind knowing that someone will take care of all the details for her.   
Goals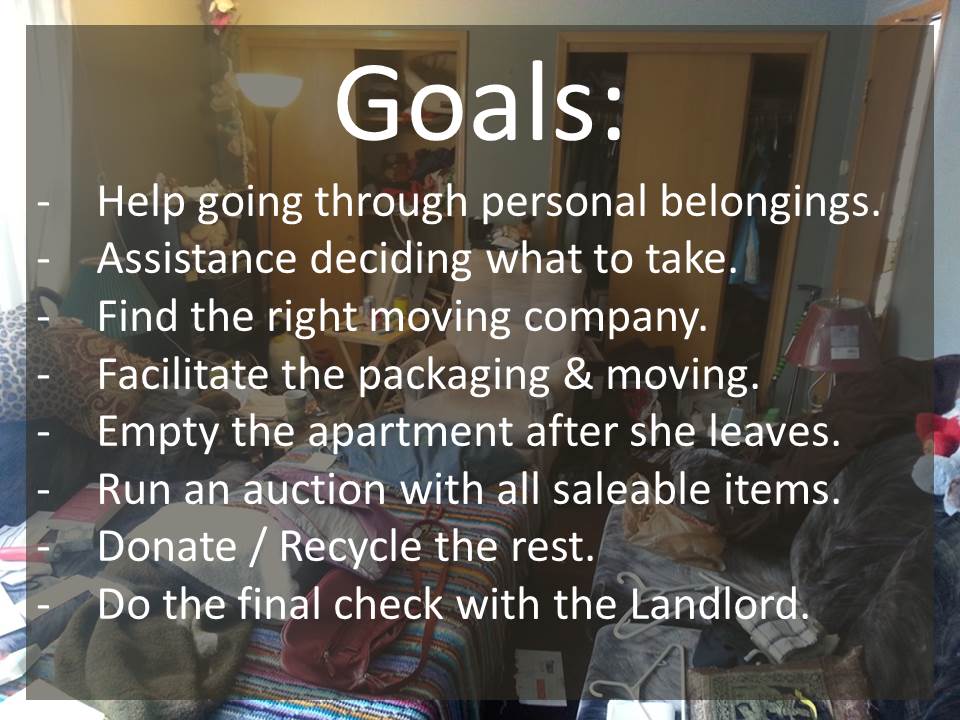 The Process
These are the steps we followed:
A session with the client to decide what to take and what to leave.
Assistance finding a pet-friendly airline company. 
Get a few quotes from moving companies and choose the best fit.
A packing session a couple of days before she left.
After she left, come with a truck and empty the apartment.
Take "sellable" items to Auction Company. (We used KW Auctions)
Take "donatable" items to Thrift Store. (We used Worth a Second Look and Thrift on Kent) 

Return Rogers TV/Internet rental gear.

Meet with the Landlord for the final OK.
Sent Before/After photos and videos and all the auction details to our client by email.

Sent final cheque from auctioned items and detailed list.
Conclusion
Our client was able to live in her apartment until the last day, and then have the peace of mind that we were taking care of the rest for her.
She was free to enjoy this new chapter of her life.
What did you think about this relocation story?
Please don't forget to comment below and share it! 
Make your relocation process painless!
The following two tabs change content below.
Emilio provides personal, home and business organization solutions for individuals who are ready for change. He is a Co-Founder of KW Professional Organizers, a sought after public speaker and blogger.
Latest posts by Emilio Jose Garcia (see all)