Selfcare and Preventing Caregiver Burnout

What is Self Care?
Often people reject the need to take care of themselves because they feel they need to care for others first. This is a false assumption. To be most effective as a caregiver, you need to be strong, optimistic and confident in yourself.
One of the many definitions of self-care is "the right and responsibility to take care of your physical, emotional and spiritual well-being." Mental Health Commission of Canada
Develop a self care plan and take time to do something for yourself EVERY DAY! A self care plan does not need to be expensive or time consuming. Examples can include but are not limited to:
Reading

Listening to Music

Watching a Movie

Visiting with friends

Having a pet

Writing in a journal

Reflecting, meditating or praying

Having a bath

Finding ways to laugh

creating a bright and cheerful environment with colour and plants
Your self care plan does not require any money!
7 Steps for Preventing Caregiver Burnout
Have you ever heard of the label "The Sandwich Generation?"  It's a generation of caregivers sandwiched between those under 25 years of age and 65 years of age. The metaphoric Sandwich is referring to the caregivers as they provide support and care for their growing children and their aging parents.  It is important to recognize if you find yourself or a partner in this life situation. It is also important to recognize that you are not alone.
Eat a Well-Balanced Diet
Avoid or limit your intake of alcohol, caffeine, drugs and tobacco
Drink plenty of water
Exercise
Get enough rest
Know and respect your limits
Be on the lookout for any changes in your habits, attitudes and moods
Online Resources You May Find Helpful

Carizon is a source of hope for our community. When children, youth, adults, couples or families face life's challenges, Carizon programs and services provide the care and compassion to help them achieve wellness.
Carizon offers a calendar of events that include workshops, professional expert advice, community initiatives and more.

Looking for mental health help? eMentalHealth.ca provides anonymous, confidential and trustworthy information, 24 hours a day, 365 days a year.
eMentalHealth.ca has over 85 Organizations and Services available in Waterloo Regional Municipality listed to provide support and assistance to Parents, Families & Caregivers.

wwhealthline.ca is an innovative website that puts accurate and up-to-date information about health services at the fingertips of consumers and health care providers across the Waterloo Wellington region of Ontario. wwhealthline.ca provides easy access to a reliable source of data, and empowers consumers to find the services they need close to home.
Over 3,000 service listings describing organizations and programs serving people who live in Cambridge & Area, Kitchener-Waterloo & Area, and Guelph & Wellington.

The Caregivers.com blog is a place for caregivers of aging adults to receive understanding, support, news and tips. This is a great resource to connect with stories from real people and experts from the field of aging adults.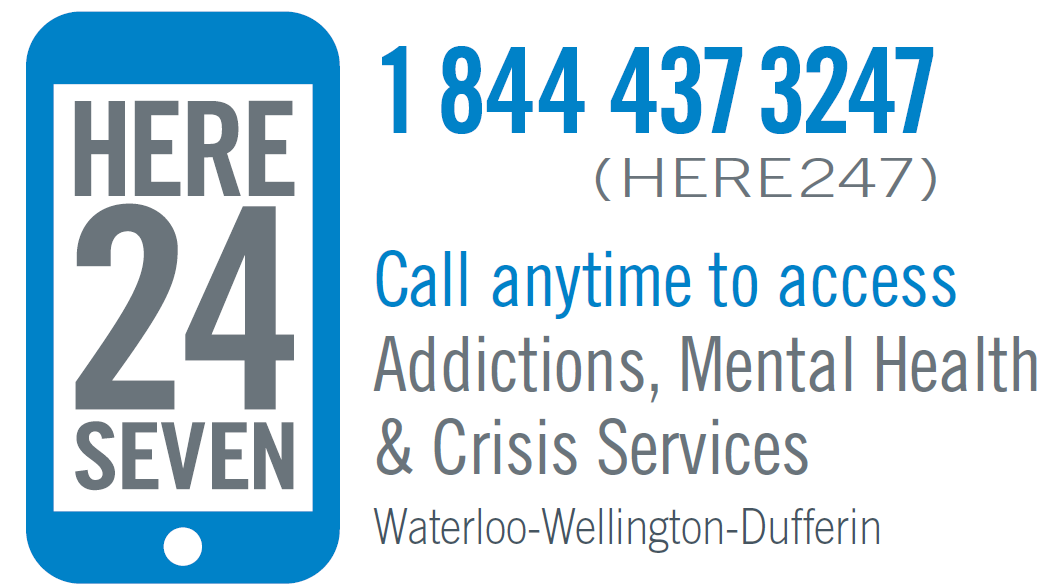 Here 24/7 is your front door to the addictions, mental health and crisis services provided by 12 agencies across Waterloo – Wellington – Dufferin. All you need to do is reach out to us. We do the intake, assessment, referral, crisis, wait list and appointment booking work for these important programs. It's our job to be your guide, figure out your needs and help you navigate the system. This leaves you free to focus on maintaining hope and pursuing recovery.
Are you a care giver? Do you have helpful tips for anyone who is reading this blog? Please share your experience.
The following two tabs change content below.
Samantha provides personal, home and business organization solutions for individuals who are ready for change. She is a Co-Founder of KW Professional Organizers, a sought after public speaker and blogger.
Latest posts by Samantha Kristoferson (see all)