Keynotes / Workshops / Lunch & Learns
Invite two enthusiastic and renown public speakers to your next professional development day, your attendees will thank you.
Join the hundreds of companies and private groups that have benefited from a workshop or all day event. You can customize your package or select from the list of previous workshops offered. Simply select the topic that most interests your team and schedule a date. 
Practical strategies. Relevant examples. Real value.
Thank you once again KW Professional Organizers for hosting another great event at the library. You're helping people stay positive and take control of their busy lives. What a great community partner!
Programs Co-Ordinator
Recently Samantha and Emilio led a series of three workshops with tenants at Supportive Housing. They made the workshops incredibly engaging, and worked really hard to tailor the content to make the time most meaningful to those participating. Tenants not only gained new knowledge and tips on organizing their physical space, but also on how to organize and de-clutter their minds, as well as how to set and achieve goals. I was very impressed with the well rounded approach that Samantha and Emilio bring to the work of organizing. Tenants are still remarking on the workshops! Thank you so much for partnering with us to bring this new learning to our tenants!
Katie Cowie-Redekopp
Emilio and Samantha recently gave a thoughtful and informative presentation on minimalism to the University of Waterloo's W3 (Waterloo Women's Wednesday) group.
They are both very generous in sharing the research and personal experiences they have collected and tested over the years.
They magically challenge the audience to consider different ways of approaching their space, time and 'stuff', while remaining highly individualized and non-judgy.
Thank you, Emilio and Samantha!
Katie DD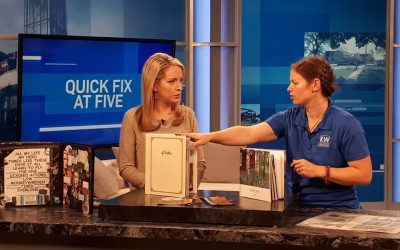 Organizing photos and tips for sharing them with others. Every year we're taking thousands of photos, but what happens after? The biggest take away from this segment with Rosie DelCampo and CTV's Quick Fix segment is to ask yourself, "What will I do with...