The Top 8 Benefits of Working with a Professional Organizer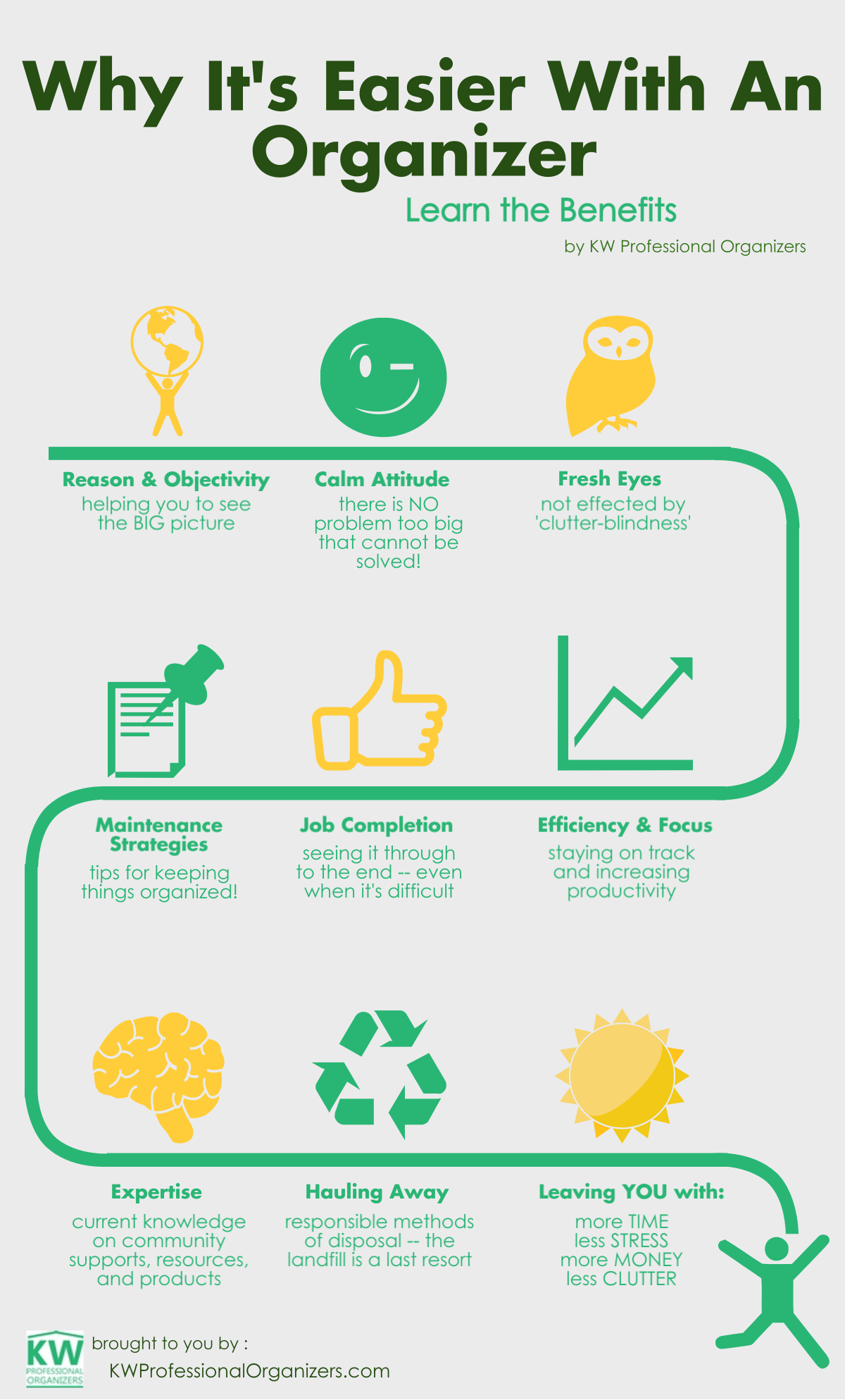 Move away from, "I just can't keep up" and "I'm drowning in clutter" to enjoying the benefits of working with a Professional Organizer.
It's a common theme in today's society… too busy, too stressful, and I have no time! Stop for a minute and think, is there a project, chore or project that you've been putting off due to lack of time? Are there piles sitting on your kitchen counter taunting you every time you walk to the fridge?
If you agreed with the above statements or know someone to whom it applies please keep reading. We're going to explore the benefits available to those who require assistance when it comes to getting back on track. Life is too short to not be happy, especially in our spaces. If you already know you want to explore hiring a Professional Organizer in your area start here.
Professional Organizers are the Personal Trainers of Organizing!™
The top 8 benefits of working with a Professional Organizer:
Reason and Objectivity: helping you to see the BIG picture.
Calm Attitude: there is NO problem too big that cannot be solved!
Fresh Eyes: not affected by 'clutter-blindness.'
Maintenance Strategies: tips for keeping things organized for lasting effects!
Job Completion: seeing each project through to the end — even when it's difficult.
Efficiency and Focus: staying on track and increasing productivity.
Expertise: current knowledge on community supports, resources, and products.
Hauling Away: environmentally responsible methods of disposal — the landfill is the last resort.
Working with a professional organizer keeps you accountable to YOUR goals. If you are having difficulty raising the topic of organizing with a friend, family or co-worker consider sharing this blog. Joining our newsletter is also a subtle way of introducing conversation topics that may make it easier to share thoughts and concerns.
Have you ever worked with a Professional Organizer or someone who helped keep you accountable to your goals? If so, what was it like?
Leave your comments below and share your experience.
Benefit from Working With a Professional Organizer!
The following two tabs change content below.
Samantha and Emilio provide personal, home, and business organization solutions for individuals who are ready for change. They are Co-Founders of KW Professional Organizers, sought after public speakers and bloggers.
Latest posts by Emilio & Samantha (see all)